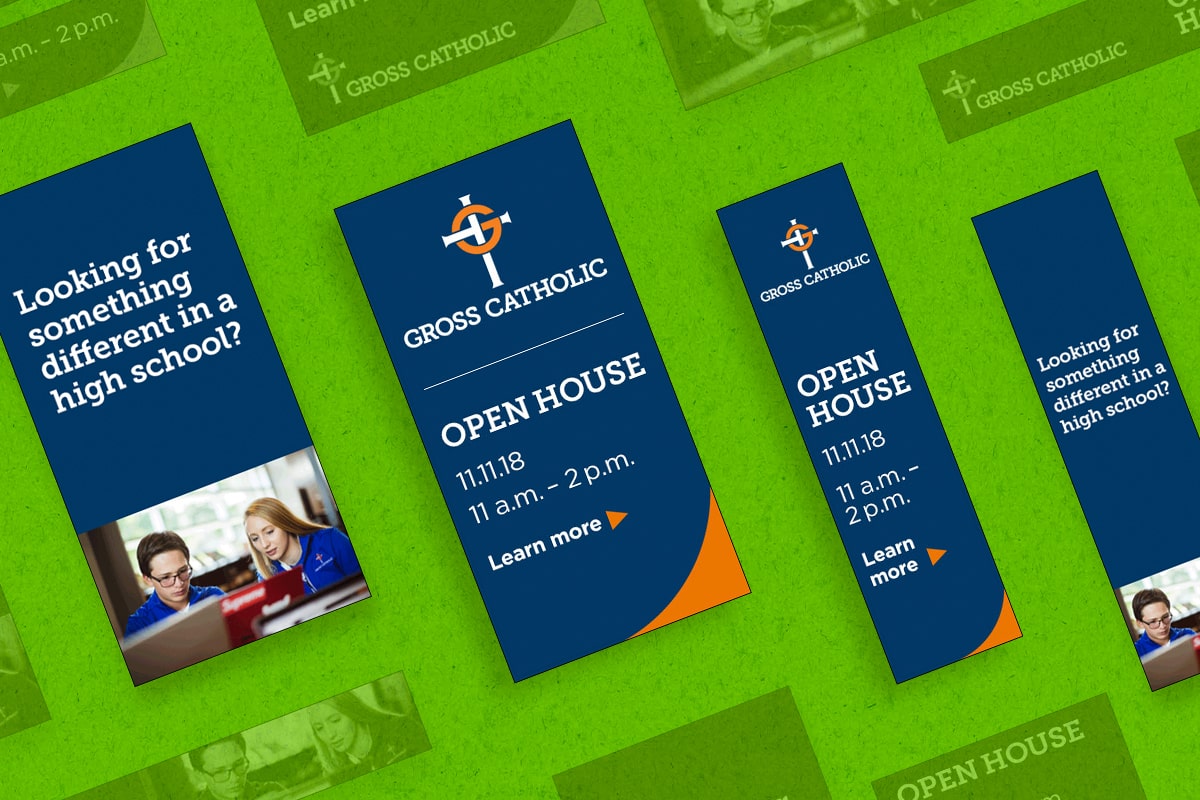 This month, several of the schools with which we work are kicking off their digital recruiting campaigns – one of those schools is Omaha's Gross Catholic High School. We asked Nicole Evans, the director of advancement at Gross Catholic, to explain why they made the leap to a mostly digital strategy and the lessons she learned in the process. 
1) What made you start thinking digital display and mobile advertising was right for Gross Catholic?
Honestly, we hadn't really considered digital advertising prior to our rebranding campaign with EG Integrated. However, once we started exploring the possibilities, digital advertising made so much sense. What a great way to leverage our limited marketing dollars in a way that maximizes brand visibility and impact among our target consumers. Unlike traditional print advertising, we could broaden our reach and measure the outcomes of each dollar spent. Particularly by purchasing digital display and mobile advertising we weren't just advertising on a handful of websites, we were able to take a more targeted approach to reach our exact demographic audience. 
2) What kind of feedback did you get initially and how did you deal with pushback?
Working in education, resources are limited and every dollar matters. Since our marketing budget is small, there was initially pushback regarding how much to invest in digital advertising. This shift in marketing strategy was new, and team members were worried that we were spending money on something that wouldn't result in increased enrollment. 
To overcome these objections, I helped our leadership team realize that we could support the move to digital advertising by repurposing how we spent our advertising dollars. We moved from traditional print advertising, which was very costly and offered no outcome tracking, to a digital platform that allowed us to see how many target consumers viewed our message and took further action to explore our school. 
3) What kind of results did you see?  What adjustments did you make for year two? 
The results from our first year in digital adverting was incredible and far surpassed our expectations. Digital adverting helped elevate our message and communicate our brand values to over 900,000 targeted consumers. Our small, Catholic school that had been quiet about its value and successes was now officially on the map – and families are starting to take notice and discover the Gross Catholic difference.
4) What are some things you wish you would have known before the ads went into the market? 
I tend to be a bit of a risk taker, but like to take risks based on data. Because this type of digital display and mobile is a fairly new marketing approach for schools, there just isn't a lot of detailed information for schools who have made this shift in strategy.
That said, I was fully willing and ready to take the leap and move our school onto a digital platform — and I'm so thankful to EG for helping initiate a positive marketing change for our school. 
Nicole Evans is a native Omahan with an extensive background in community program management and fund development. Before joining the staff at Gross Catholic, she served as development director for the Archdiocese of Omaha Catholic School Consortium, a collaborative of five urban Catholic elementary schools in south Omaha. As development director, she facilitated strategic planning, led marketing and communications efforts, and developed a comprehensive annual fund program. Prior to her time in Catholic education, she spent 10 years in Catholic healthcare program administration and bioethics.