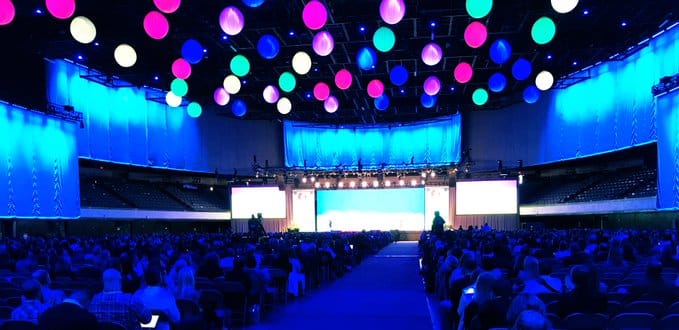 Change. It's a word that evokes an uneasy feeling in many, particularly those who work in schools.  But, ask yourself these questions:
Is the devil you know, better than the one you don't know?
Is "how we've always done it" going to keep attracting families who want to enroll or make the investment in private education?
What if you used a different word for change, like re-invent, re-imagine or innovate?

What if your school took the time to plan for the future and ask the question – "is the traditional school model going to best educate our students for the dynamic economy they will encounter when they graduate?"
These and other questions were posed to more than 4,000 attendees at last week's National Association of Independent Schools Conference in Long Beach, California. I was pleased to be one of those in attendance and involved in important discussions about the need for independent schools to reinvent, reimagine and rally around innovation. 
I came away from this conference brimming with excitement and thinking about all of the possibilities. I got even more excited as I start to digest the large amount of reading material I acquired during various conference sessions.
So, what book arrived first on my e-reader on the way home? A New York Times best seller called, The Medici Effectby Frans Johansson, who was one of the conference keynote speakers. The thing that really resonated with me was his idea that schools should always be looking for opportunities to change the game in big or small ways, because 'all new ideas are combinations of other ideas.' For example, he talked about Uber. Riding in a taxi is not a new idea… hiring a car service is not a new idea… but riding in people's private car IS a new idea that combines a lot of old existing ideas. It also challenges the age-old adage – never accept a ride from a stranger. I like this idea, because it speaks to a school's natural tendency to work in silos and not reach out across departments when it's looking to launch a new initiative or creatively solve a problem. Working together brings out everyone's creativity and promotes ideas your traditional "inner circle" may not have thought about. 
I also sat in on several sessions related to school marketing. It's abundantly clear that if your school is not engaged in a digital marketing campaign, you are going to quickly fall behind your competitors. Schools who advertise, not only on social media but using google ad words and/or digital display advertising, are meeting parents where they spend most of their day – on a device. It hasn't taken long for this trend to take hold, but if your school has a limited advertising budget, you should be looking to transition to an all-digital strategy in order to track and trace the results of your efforts and target your message to a specific audience.
The other evolving trend schools need to be aware of is inbound marketing. While it may sound trendy, it really is the future of educational marketing. It allows you to follow a prospective family from first interest through the entire admissions process and gives you the ability to deliver targeted, automated messaging throughout the process.