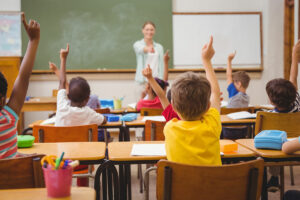 Mar/Comm & Enrollment Management Experts Share their Experiences
Part 3 of a 3-part series
There's no question that the COVID-19 pandemic had a significant impact on school communities across the country. As another school year begins, confusion, uncertainty, and controversy still lingers, dashing hopes that life will be returning to normal any time soon. When we first discussed the focus of this blog, COVID-19 cases were decreasing, vaccinations were increasing, and the prognosis for a post-COVID world was pretty darn rosy. Enter the ultimate party spoiler: the Delta variant, proving once again that when it comes to a pandemic, there is no sure bet.
This last year forced schools to adjust quickly and look for creative solutions amid a stressful time. We spoke with three school marketing/communication and enrollment management experts about their experiences during the last 18 months as they quickly pivoted from "business as usual" to "pants on fire" communication while information and decisions changed on a minute-by-minute basis.
In the today's installment we asked our experts to pull out their crystal balls and look toward the future. Our previous installments discussed their professional experience and lessons learned during this time. The second part of the series focused on how it changed their organization and what they are looking forward to as things calm down. Answers were edited for clarity and brevity.
Our experts:
Nicole Evans is the director of Marketing and Enrollment Management for the Diocese of Des Moines Catholic Schools.
Jonathan Oleisky is president of Kalix Marketing, providing strategic marketing services to independent day and boarding schools and educational organizations nationwide.
Molly Woodman is the director of Admissions at Marian High School, a private, Catholic college preparatory school for young women located in Omaha, Nebraska.
What are your plans and projections for the coming year? For example: Will you see enrollment gains? Are you changing the way you market to families or making intentional efforts to reach out to families who may have switched schools or dropped out during the pandemic?
Nicole: In 2019, the Diocese of Des Moines Catholic Schools received a $100,000 grant from the Catholic Tuition Organization to support a major marketing initiative for Catholic education to help with rebranding, printed materials, website upgrades and an advertising campaign. The goal was to promote tuition assistance, affordability of Catholic schools and ultimately, increase enrollment for the 2021-2022 school year by 1% to 2%.
While we won't have final enrollment data until October, a current comparative analysis of enrollment numbers shows that total enrollment across all schools increased from 6,165 in August 2020 to 6,392 students as of June 2021 – nearly a 4% increase. In addition, 13 of 16 schools have experienced growth, five schools are at or near capacity (90% full or higher) and the diocese is at 81% capacity for all schools.
This increase in enrollment across the diocese results from highly targeted marketing efforts and the diligence of our school administrators to provide a high-quality academic experience for their students despite the challenges presented by COVID-19.
Jonathan: There is a great deal of opportunity ahead for private schools. Schools must continue to remind constituents that thanks to their agility and nimbleness, their schools could offer a hybrid approach for students and then quickly pivot back to in-person classes. Since unpredictability will continue to define the fall, it's essential to reiterate those same themes from the past 18 months:
We are focused on the health and safety of students
Education is what we're all about
We will work with state and local authorities
We will offer in-person classes as long as it is safe and possible
In addition, there is a high level of exhaustion and burnout among K-12 staff. School leaders must recognize that exhaustion and continue to take care of their staff in the coming months.
Molly:  With our return to almost normal (regarding in-person class, events, etc.) and the addition of some fun new initiatives, we expect to see higher numbers in this incoming freshman class. We are adding more intentional touchpoints to our marketing efforts this year, part of this is made possible with our new CRM system.  We've also invested in a new, professionally made recruitment video that we'll be able to share on various platforms.