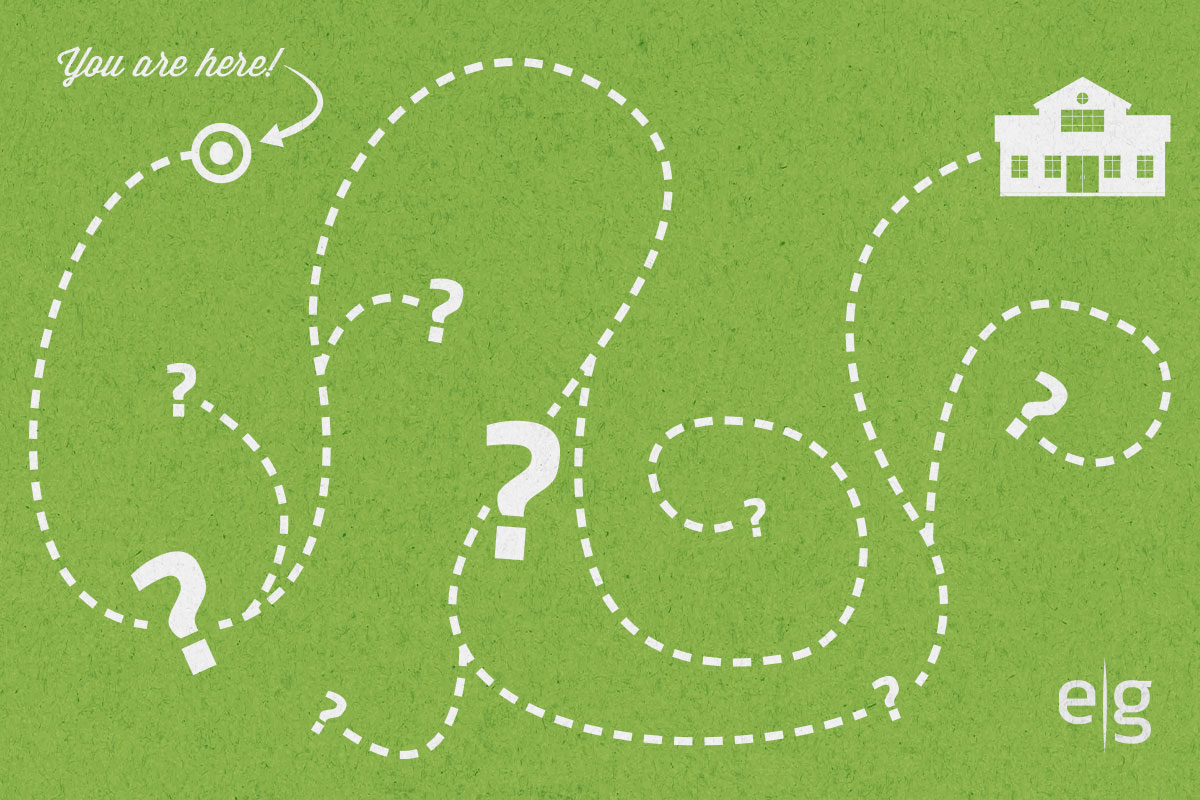 Uncertainty is the name of the game right now for admissions and marketing professionals at private and independent schools across the country. While many are still trying to finalize enrollment for the upcoming year, they are, at the same time, working through several scenarios for the fall recruitment cycle.
If you're trying to develop a roadmap for August and beyond, we suggest you consider the following:
Keep your marketing budgets steady
Maximize your digital strategy
Make sure your website is frequently updated with current admissions processes.

 
Keep Marketing Budgets Steady
While cutting the marketing budget often seems like an easy fix, it's important to keep it intact for the upcoming fiscal year, even if means you have to shift dollars to do so. A recent article in Market Watch explains why cuts to marketing budgets in down economic times can actually make it harder to recover during an economic rebound.  
Adopt a Digital-Centric Advetising Strategy
No matter the size of the budget, it's important to make the most of every dollar. That's why we recommend a digital-centric advertising strategy, which gives you the ability to target communication and track your return on investment. This has become even more critical as a result of the COVID-19 pandemic, as parents are spending much of their time online. In fact, according to Forbes, internet use has increased by nearly 70 percent since the start of the pandemic. Finally, while it may be in a state of flux, make sure your website offers the most current admissions information and update it as processes and procedures change. Many schools are already offering virtual Admissions Centers. For example, officials at Pulaski Academy in Little Rock, Arkansas, pivoted quickly and created a page that includes a lot of critical information. It's also easily accessible from the home page, so prospective families don't have to hunt for critical information.
Listen to the Experts
A recent blog post by Rick Newberry of Enrollment Catalyst includes additional examples and outlines the steps other school officials have taken to keep prospective families engaged. Rick also hosts a weekly Facebook live show, featuring special guests who offer advice and tips on how they are adapting their admissions and marketing strategies.
Rick has decades of experience helping private schools – of all shapes and sizes – increase enrollment. He is just one of the many marketing and enrollment management professionals who are sharing their expertise, free of charge, to help admissions and marketing professionals through this unprecedented time. Below are additional resources that you and your colleagues might find useful as you prepare for an uncertain fall recruitment cycle.   
Enrollment Management Association is making a lot of its content available, even for non-members. It  hosts frequent webinars about a variety of topics and you can follow them on Facebook, Twitter and LinkedIn. 
Even before COVID-19, I've been a huge fan of Brendan Schneider Media. Brendan  is the Director of Advancement at Sewickley Academy in Pittsburgh, but he also runs a popular consulting group called SchneiderB Media, which is  geared toward admissions, marketing and  communications professionals at private schools. What I love about Brendan's website is that it gives school officials actionable, easy steps they can take to improve their digital footprint while offering step-by-step information about how to get started with adopting an inbound marketing strategy. Brendan also moderates a popular, members-only, Facebook group that allows followers to exchange real-time information about timely issues affecting schools. 
While we all hope for certainty and a swift return to normalcy, we know that this upcoming recruitment cycle for private schools is going to look different. Those schools that spend the summer thinking creatively and evolving their marketing plans will reap the benefits in a few short months!